Learn to Skate at Griff's Icehouse West
Learn to Skate USA is the national curriculum that programs and faciliies use for their skating programs. Register today for our Winter 2022 (March 2nd through April 13th) and/or our Spring 2022 (April 20th through May 15th) classes below.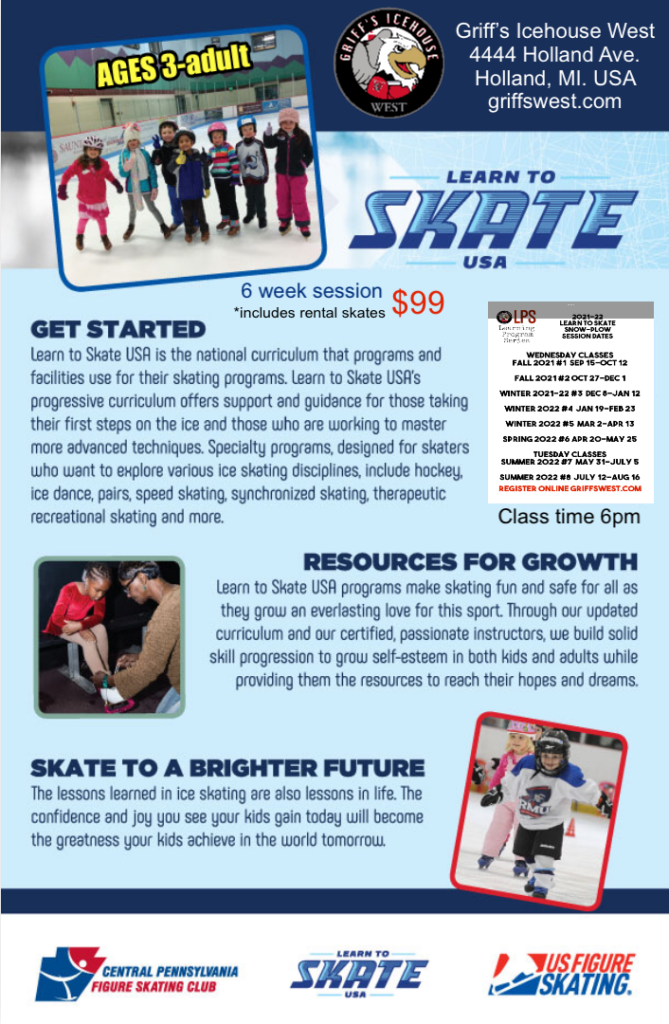 Welcome to Griff's IceHouse West. Griff's West is from the owners of the Grand Rapids Griffins (Detroit Red Wings AHL affiliate) and is located at 4444 Holland Avenue in Holland, Michigan. We offer two ice rinks for public and private use, as well as Learn to Skate and Learn to Play classes, drop-in hockey and much more. Griff's West is also home to Hope College hockey.
If you're looking for ice skating in Holland, MI, look no further. Griff's IceHouse West offers public skating with skates and skate trainers available to rent. Check out today's ice schedule or the schedule board, updated daily, to see when the ice rinks are available for public skating. If you're looking for drop-in hockey in West Michigan, you've come to the right place. We also have a pro shop, SK8's Pro Shop, located right inside Griff's IceHouse West for all your equipment needs.
If you would like to book ice time or schedule a party in Holland, MI, Griff's IceHouse West has you covered. Conveniently located at 4444 Holland Avenue, we offer special group rates for ice skating and separate rooms for your group when you're not having fun on the ice.
Have any questions for us? Check out our general contact information page or send us a message to let us know how we can help.